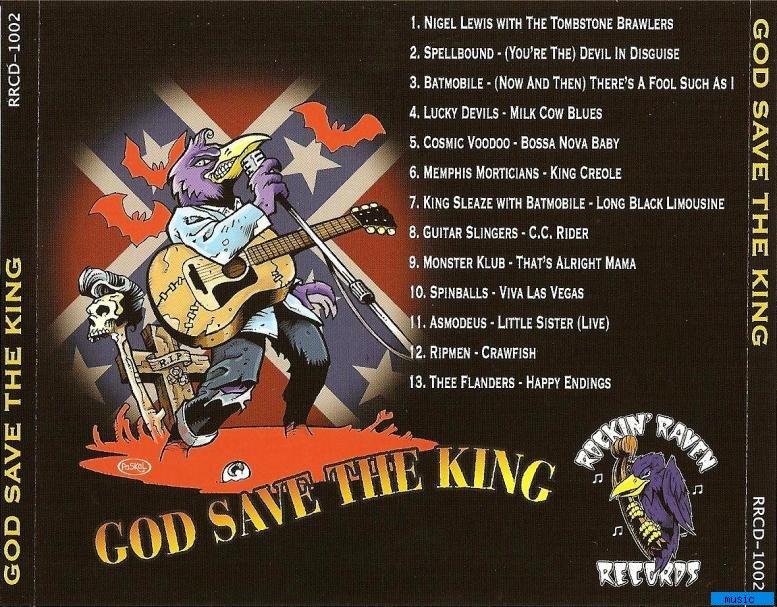 Track listing:
1. Nigel Lewis (Meteors,Tall Boys) with The Tombstone Brawlers - Blue Moon of Kentucky
2. Spellbound - (You're The) Devil In Disguise
3. Batmobile - (Now And Then) There's A Fool Such As I
4. Lucky Devils - Milk Cow Blues
5. Cosmic Voodoo (Fet. Jeff Roffredo of Tiger Army and Rezurex and James Meza of Rezurex, Tiger Army and Nekromantix) - Bossa Nova Baby
6. Memphis Morticians - King Creole
7. King Sleaze (Lonesome Kings) with Batmobile - Long Black Limousine
8. Guitar Slingers (Fet. Doyley of Klingonz and Demented Are Go) - CC Rider
9. Monster Klub - That's Alright Mama
10. Spinballs (Fet. Thomas Palin Ex-Small Town Pimps) - Viva Las Vegas
11. Asmodeus - Little Sister (Live)
12. Ripmen - Crawfish
13. Thee Flanders - Happy Endings
DOWNLOAD ROCKERS!!